Please Note
The organization known as Legacy is no longer functioning. All material on this site has been left on-line for historical purposes. There may be broken links.
Directional/City Entrance Sign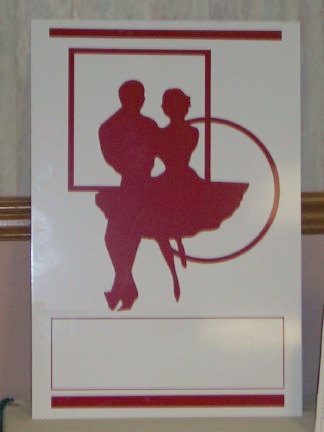 This 15" x 22" sign is made of lifetime aluminum, with rounded corners, baked white enamel and red figures. It will NOT rust!
Near the bottom of the sign is a 4" x 13" box where a telephone number, lettering, arrows, etc. can be inserted.
The sign was initially designed so that it could be used as a city limits sign, indicating that square dancing is available in the area; with the sign placed along with the Rotary, Lions, Kiwanis clubs, etc.
Use the sign to direct people to your dance, to dance halls at conventions, etc.
There are two holes are punched, so any method of mounting is acceptable whether it be on wire screening, fence post(s), or to decorate halls or vans, RVs, etc.